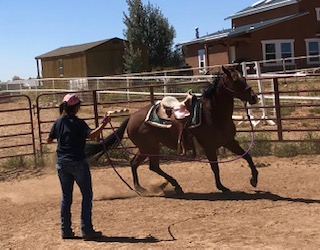 Pip
Grade Mare
Born: 2009
Arrival: September 2018
Online Sponsor: Jerry Pike
Pip is a special mare who has come a long way in short time. While she's naturally reactive and shy, Pip attentively watches and listens for the next cue when performing groundwork skills. She does best when she's comfortable with her handler and may turn and retreat if she doesn't know you well.
Pip is doing great lunging both on- and off-line and does well for the farrier. She's also learning to ground tie, does fine with in-hand obstacles and loads well in various types of trailers. What's most exciting is Pip is being started under saddle and has taken a few trail rides outside of the arena!
Because of Pip's sensitivities, it's important she finds someone with experience to help her grow, build her trust, and become more grounded.